'Department of Excellence': The Law Department awarded Ministerial funding for the best project in the legal field
Published:
Wednesday, February 26, 2020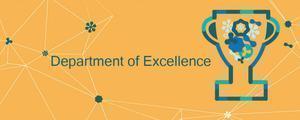 The Law Department of the University of Turin was awarded a pluriannual funding within the Ministerial program "Departments of Excellence 2018-2022". The project received the best evaluation among those presented in the field of Legal Sciences.
This result rewards a project that purports to put the Department in a central position within the European Research Area, by:
a) increasing the international mobility of teaching staff and students;
b) stimulating the publication of research products on top-level international reviews and publishers;
c) renewing the teaching activity, by strengthening teaching skills and boosting experiential learning activities.
This award also allows to create new opportunities for young researchers, through the creation of a new Post-Doc Programme, and to attract people from prestigious foreign universities.
The Excellence Project has two main components: the first one concerning research infrastructures (A) and the second dedicated to "high-quality educational programs" (B).
A) Infrastructures
Thanks to Excellence Project, the Department is enhancing its library collection, as well as it has launched a far reaching programme aiming at digitalising some of its most important ancient books.
B) High-quality educational programs
The Department has launched 9 high-quality educational programs, functional to objectives a) to c).
More specifically, these programs are:
A1 – Early Career Fellowship
The Department offer a three-months fellowship and scientific support to young researcher wishing to apply to individual grants, such as the Marie Skłodowska-Curie one, in case they choose the University of Turin as host institution. Fellows are selected on a competitive basis.
A2 – Laboratorio Competenze
The laboratorio is a hub for innovation in research and training. It is in charge of organising courses and workshop, as well as managing services, such as proofreading.
A3 – Visiting@Law
This activity aims at attracting highly-qualified Professors from prestigious foreign universities, so that can contribute to the other activites of the Excellence Project.
A4 – Outgoing & Incoming support programs
This activity supports the mobility of young researcher, Post-Doc fellows, doctoral students and undergrad students.
A5 – Creation of new legal clinics
The Department aims at further increasing the experiential learning opportunities for its students, by creating new legal clinics in partnership with foreign universities.
A6 – Legal Clinics and Moot Courts Tutorship programs
This activity provides financial support to experiential learning activities carried out by the Department.
A7 – Studenti per la ricerca
This activity aims at bridging the gap between students and research activities carried out bythe Department. Every year, a selected group of students is given the possibility to be included in research projects under the supervision of a Professor of the Department.
A8 – Forum Diritto e Innovazione (Public Engagement)
The main aim is crating an open space for the development of joint initiatives together with civil society associations or enterprises.
A9 – Diploma in Legal Reasoning and Technological Innovation
The Diploma is structured as an 'academic minor' and it is awarded to students successfully completing three courses focusing the relationship between law and technological innovation.