Joëlle Long
Associate Professor
SSD: IUS/01 - private law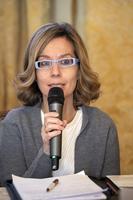 Contacts
0116709448
0116702559
Dipartimento di Giurisprudenza, Lungo Dora Siena 100 A, 10153 Torino
Blocco D3, II piano, stanza 02
At
Cliniche Legali
Department of Law
Dipartimento di Giurisprudenza
Corsi di Studio del Dipartimento di Culture, Politica e Società
Corsi di Studio del Dipartimento di Giurisprudenza
Corso di laurea magistrale in Psicologia criminologica e forense
Dottorato di ricerca in Diritto, Persona e Mercato
Curriculum vitae
Curriculum Vitae (0.7 MB)
Research topics
1° aprile 2021-30 marzo 2022: responsabile scientifica del progetto europeo interdisciplinare Children Digi-CORE -Enhancing children's participation through DIGItal COmplaints and Reporting (https://digicore-project.eu) finanziato dalla Commissione Europea (Rights, Equality and Citizenship - Programme REC-AG-2020 / REC-RCHI-PROF-AG-202.2014-2020) con Grant Agreement No 101008337 .
1° marzo 2021-29 aprile 2022: responsabile per l'Università di Torino del progetto Transnational Youth Forum 2022: Climate Change, Global Concerns and impact on the Rights of the Future Generations (Grant Agreement No.2020-3-CY02-KA347-001971) Programme Erasmus+ Key ActionKA3 - Support for policy reform. Action TypeKA347 - Youth Dialogue Projects. Capofila Hope For Children (Cipro).
I miei principali ambiti di ricerca sono il diritto delle persone fisiche e della famiglia e il diritto minorile. Mi occupo, in particolare, dell'impatto delle fonti di origine internazionale sul diritto italiano. In quest'ottica, la mia ricerca riguarda anzitutto la giurisprudenza della Corte europea dei diritti del'uomo, nonchè - per la protezione degli adulti "deboli"- la Convenzione dell'Aja del 2000 e - per il diritto minorile - la Conv. ONU sui diritti dell'infanzia, la Conv. dell'Aja del 1993 sull'adozione internazionale, la Conv. dell'Aja del 1980 sulla sottrazione internazionale di minorenni e il Reg. CE 2201/2003. Altri due filoni di indagine che seguo sono i profili interculturali del diritto di famiglia e le questioni di genere nel diritto.
Research projects
Activities in agenda
Academic bodies
Office hours
Il ricevimento si svolge in presenza il martedì mattina dalle 9 alle 12, previo appuntamento da richiedersi via email. In alternativa, è possibile concordare un colloquio nella sala riunioni virtuale della docente https://unito.webex.com/meet/joelle.long